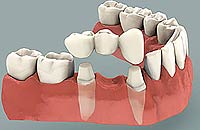 A bridge, also known as a fixed partial denture, is a dental restoration used to replace a missing tooth or teeth by spanning the space between adjacent natural teeth or dental implants.
There are several different types of bridges as well as several different types of bridge fabrication and methods of attachment to the adjacent supporting teeth. Bridges are typically fabricated outside of the mouth and cemented on the patient's teeth once fabrication and polishing are complete.
About Dental Bridges
A bridge is fabricated by reducing the teeth on either side of the missing tooth or teeth.  This reduction involves a preparation pattern determined by the location of the teeth and by the material from which the bridge is to be fabricated.  In other words, the abutment (supporting) teeth are reduced in size and shape to accommodate the material(s) in the bridge.  Once bonded into place, the completed bridge restores the size and shape of the original teeth in a correct alignment and contact with the opposing teeth as well as providing the patient with the teeth that were missing in that part of the mouth.
Once the teeth are prepared, an impression is taken and sent off to a dental lab for processing. The new bridge is usually sent back to the office within 1 to 2 weeks. To ensure proper protection and aesthetics after the support teeth have been prepared,  a temporary bridge is made in-office and placed on the prepared teeth to protect them while the final bridge is being designed and fabricated.  Once the final bridge is ready, the temporary bridge is removed and the final bridge is permanently cemented into position in the patient's mouth.
Options For Replacing Missing Teeth
Placement of a bridge helps to restore proper function and esthetics.  In addition,  it also helps to prevent the surrounding teeth from drifting out of position as well as filling spaces in the dental arch that might otherwise leave surrounding teeth susceptible to tooth decay. However,  special attention to daily oral hygiene under and around a dental bridge must be taken to ensure that it remains clean and that the teeth and gums which support it remain healthy. Furthermore, dental visits, including professional cleanings, should be completed every six months in order to help ensure both the health and stability of any dental bridge.
---